Whether you call it textured stucco, cottage cheese, or something else, popcorn ceilings are less popular than ever. And for good reasons, too!
Here are just a few reasons you might want to consider popcorn ceiling removal.
1. Popcorn Ceilings Collect Dust and Cobwebs
While the texturing on a popcorn ceiling might have been visually attractive in the past, the fact is that it collects dust, debris, and cobwebs. Add a ceiling fan to the room and the problem grows exponentially.
2. Popcorn Ceilings Are Hard to Clean
Another reason many people consider popcorn ceiling removal is that they're hard to clean. If you've ever tried to use a broom to dislodge the dust and cobwebs we just mentioned, you know firsthand how hard it is to remove them without making a huge mess on the floor and possibly damaging the texture of the ceiling, too.
3. It May Contain Asbestos
Popcorn ceilings became popular back in the 1970s before asbestos was banned due to its cancer-causing properties. Because of that, older popcorn ceilings may contain asbestos, which can harm your health and the health of your family members.
You should not attempt popcorn ceiling removal on your own unless you are certain the ceiling does not include asbestos.
4. Popcorn Ceilings Create Harsh Shadows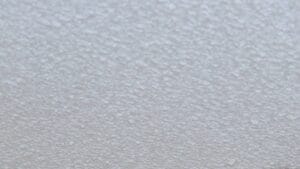 Looking to create a relaxing, tranquil environment? A popcorn ceiling may affect your ability to do that. The texturing affects the flow of light within a room and can create harsh shadows, particularly if you're using recessed lighting, ceiling-mounted lighting, or lights on a ceiling fan. One option to get around this problem until you can have it removed is to use lamps instead.
5. They're Not Very Modern
Today's home design trends feature smooth ceilings or knockdown ceilings. Popcorn ceilings are too dated for many people's tastes. Popcorn ceiling removal allows you to modernize your space, although you may be surprised at the amount of work needed to make your ceilings sleek and smooth.
Why Were Popcorn Ceilings Popular?
Popcorn ceilings became popular because they were a fast, effective way to cover the damage caused during construction. Hammer marks around nails, gouges, scratches, and other damage caused by builders during construction show dramatically through a coat of paint. To hide that damage and limit the amount of time builders had to spend doing it, popcorn texturing was sprayed on.
Popcorn ceiling removal exposes all those flaws and leaves you needing more than just a coat of paint. Stucco will need to be applied, either through smooth applications, stippling, or knockdown techniques to create the look you want.
Is Popcorn Ceiling Removal a DIY Project?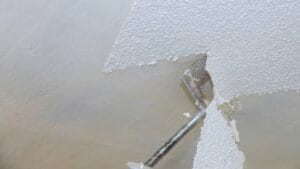 Some people can handle popcorn ceiling removal on their own. It requires the right tools, personal protective gear, and the time needed to scrape it off and then thoroughly clean the space.
However, it's not really recommended as a DIY project because of the chance that the ceiling contains asbestos. There's also the very real risk that you'll damage the underlying sheetrock, meaning you'll need to replace at least a portion of it before you can move forward with your renovation.
There's also the fact that popcorn ceiling removal creates a lot of dust and debris. If not handled correctly, that dust can get sucked into the HVAC system, where it will coat the inside of your ducts and linger for years, potentially causing health concerns if it makes its way into someone's lungs.
What Should You Replace a Popcorn Ceiling With?
In most cases, a fresh coat of professionally applied plaster after popcorn ceiling removal allows you to create the smooth, modern aesthetic you want. When applied correctly, plaster can easily cover any existing minor damage to your sheetrock, such as hammer divots or scratches. It also lasts for decades, is easy to clean, and does not affect the distribution of light from recessed lights, ceiling-mounted fixtures, or ceiling fan lights.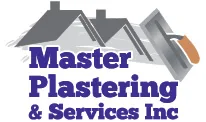 At Master Plastering & Services Inc., we specialize in transforming your space by replacing old Popcorn Ceilings with exquisite plaster finishes. We understand that Popcorn Ceilings can be outdated and difficult to maintain. That's why our skilled team is here to provide you with a fresh and elegant alternative.
Using our expertise in plastering techniques, we meticulously remove the Popcorn texture and replace it with smooth, beautifully crafted plaster ceilings. Our attention to detail ensures a flawless and modern finish that will enhance the aesthetic appeal of your space.
Say goodbye to your old, dated Popcorn Ceilings and welcome the timeless beauty of plaster. Contact Master Plastering & Services Inc. today to schedule a consultation and experience the transformative power of our plastering craftsmanship.