Whether you've just finished a newly built deck or your old one is looking worn out and in need of a helping hand, you can't just grab any old can of paint and get to work. Decks are constantly exposed to the elements. They see it all – sun, rain, snow, and everything in between. Whatever paint you choose needs to weather the challenge and still look great.
Painting is hard work, and the last thing you want to do is spend hours making your deck look amazing only to have it chip away into a mess.
With that said, below is a look at the best deck paints out there and what to look for when choosing yours.
What Makes a Good Deck Paint?
When it's sitting in the can, your paint just looks like paint. In reality, it's more complicated than that. Deck paint needs to be long-lasting, durable, and able to stand up against what any season throws at it. To do that, look for something that is:
Waterproof and/or weatherproof
Long-lasting
Good coverage
Non-skid or anti-slip
In addition to those basic qualities, you'll have to look at your particular deck and assess your needs. Decide what kind of finish you want (glossy, matte, satin, etc) and know what material you're covering. If you have a wooden deck or other porous material, plan on buying more paint to get solid coverage.
Different paint bases make a difference, too. Oil-based paints are sometimes more affordable, but they won't last as long as water-based paints like acrylics. Water-based paints are low maintenance and easy to clean, too, so they're probably your best bet for decks.
The Best Deck Paints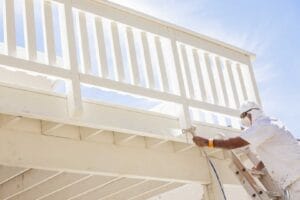 Now it's time for a quick look at the best deck paints currently on the market. When picking your paint, think about how it's used, what it's exposed to, and what kind of budget you're working with.
INSL-X Anti-Slip Deck Paint
This acrylic paint offers an anti-slip coating and works on a variety of different deck materials, including masonry, wood, and metal. It's easy to clean and it's non-slip, so it's ideal for high-traffic decks. It's also budget-friendly, so it's ideal if you're looking to save money or have a large area to cover.
Kilz Porch and Patio
If you're looking to restore your old deck to its former glory, you need something that can hold up against chipping, cracking, and mildew. The Kilz Porch and Patio paint does just that, and it's great for covering up old, well-loved wood. This acrylic paint is great if you live in an area with harsher weather conditions, too, and handles both concrete and wood decks, patios, and walkways.
Rust-Oleum Marine Topside Paint
This is one of the best weatherproofing paints out there. If you're painting a deck near a pool or live in an area that sees a lot of rain or snow, this could be the perfect paint for you. Since it's intended for marine use, you can count on it to be weather- and water-resistant. It also keeps mold and mildew at bay and is UV-resistant. This paint works on wood, fiberglass, and metal surfaces.
Conclusion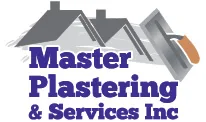 Choosing the right deck paint is crucial to ensure a long-lasting and beautiful finish for your deck. As experts in painting services, Master Plastering & Services Inc. is here to help you select the perfect deck paint that meets your specific needs.
Our professional team understands the importance of a durable and weather-resistant paint that can withstand the elements while providing excellent coverage.
Whether you're looking for an anti-slip solution for high-traffic decks like the INSL-X Anti-Slip Deck Paint, a versatile option like the Kilz Porch and Patio paint for restoring old decks, or superior weatherproofing with the Rust-Oleum Marine Topside Paint, we have you covered.
We prioritize your priorities and budget, ensuring compatibility with your deck material and intended uses. With a freshly painted deck, you can fully enjoy your outdoor space and enhance the overall appearance of your property. Contact us today to experience our top-notch painting services and transform your deck into a stunning outdoor oasis.