A lot of homeowners have a home improvement project (or several) in mind when they decide to paint their homes. The great thing about painting is that it can totally overhaul your property – and fast. For a reasonable price, you can change the appearance of your home and update its style.
However, updating the aesthetics of your home isn't the only perk that is associated with painting. A good paint job can help protect your home from dust, moisture, and insects. It helps retain its market value, gives you a chance to find damage, and ensures your home looks nice and new – even if it's not.
Benefits of Interior Painting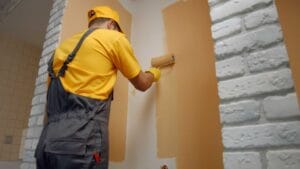 Interior painting is a great way to spruce up the inside of your home. It can add beauty to the home while also protecting it so it's in fantastic condition for years to come. Below are a few benefits of painting the interior of your property.
Increased Home Value
Painting the inside of your home is one of the least expensive and simplest ways to increase the value of your home. This also holds true for exterior painting if you plan to do both. A great paint job shows that you take great care of your home. If you are going to sell your home, it can make the process easier and ensure you get the sales price you desire.
Better Home Mood
Since painting is inexpensive, it's also a great way to make a home happier and more comfortable to spend time in. If you haven't painted your house in a while, you can switch to modern colors to revamp the space. With many people staying home for longer periods (especially if you work from home), having an appealing space is a must.
Prevent Damage to the Home
Painting the interior of your home prevents damage on and near your walls. Walls are often made to absorb moisture, but too much of it can lead to problems with structural integrity. Once moisture gets into the walls, it can lead to mold and cause health issues. Paint seals the moisture out so there's nothing to worry about.
Benefits of Exterior Painting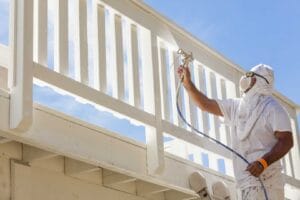 Similar to interior painting, exterior painting makes your home look top-notch. However, there are additional benefits to be aware of. Below, we'll share a few of the most important ones so you have an idea of what an impact exterior painting offers.
Improved Curb Appeal
If you ever decide to sell your home, exterior painting can amplify your curb appeal. This is different from home value. It's all about creating the right tone for someone who sees your house for the first time. If someone loves the way the outside of the home looks, they'll be more interested in coming inside and checking out what's inside.
Protection from the Elements
Nature can create all sorts of harsh situations. Everything from snow to sleet, rain, wind, and fire can lead to damage to your home. However, a good coat of paint can resist many of these things. Paint is a protective covering for the siding of your home. It can stop moisture but also prevent insects from getting into the siding of your home and causing trouble.
Better Siding Lifespan
Regardless of the type of siding you have, paint can make it last longer. Some siding needs to be replaced regularly, but paint can add to the years it is in good shape. It can also be used to repair and cover up any damage on the siding. Add protection to worn-out areas when you aren't quite ready to handle a full replacement.
Improvement of Your Property After Painting
As you can see, painting is a great way to improve your property. And once the painting is done, you have a blank slate for making other changes. For instance, after you've painted the home, you can have new flooring installed or put in new cabinets and other large pieces in your home.
When you combine painting with other home improvement options, you get to combine the benefits of several projects. Or you can simply do the painting now and focus on other home improvement projects down the road. It's up to you.
Final Thoughts
Painting your property is a great way to ensure it looks great, but there are various other benefits. Whether you paint the inside, the outside, or both, you can expect to see all sorts of perks once you're finished. Plus, painting gives you a fresh surface to start doing other property improvement projects.
At Master Plastering & Services Inc., we understand the impact that a fresh coat of paint can have on the appearance of your property. That's why we offer high-quality painting services using the best materials and equipment available.
Our team of skilled professionals is trained in the latest painting techniques to ensure a flawless finish, whether you need interior or exterior painting. We carefully select the best colors and products to meet the specific needs of each project, and we are committed to delivering exceptional results every time.
Don't wait any longer to transform your property with a beautiful new coat of paint. Contact us today to schedule your consultation and experience the difference that our expertise and top-notch materials can make in bringing your vision to life.