These days, most homeowners are familiar with drywall as the go-to interior wall finish. This is the most commonly used wall material for several decades, and actually dates back much farther than that.
If you've never lived in an older home, you may never have even come across a plaster wall.
However, plaster has seen a rise in popularity for modern homes, for a lot of great reasons. It can be used for stylized designs, better acoustics, and more.
Here's what you need to know about plaster and why it's an excellent addition to consider for your home remodel.
What Is Plaster?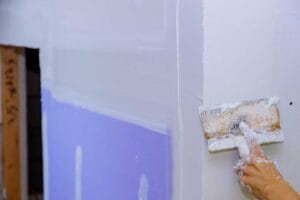 Before we dive in to why you should consider plaster for your building, let's talk about what this is.
When a wall is covered with drywall, a sheet of material is nailed to the frame of the house. Plaster, however, is a wet material that is applied to a sheet of what is called "blueboard", which is designed to bond very tightly with the plaster and support any unique details that the wet plaster has been molded into.
Plaster typically comes in three types:
Gypsum plaster, which is excellent for sound-proofing and fire retardation, is made by mixing dried plaster powder with water and allowing it to set;
Lime plaster is made by mixing the plaster material with water and sand. This produces a very mold-resistant plaster;
Cement-based plaster is great for outdoor walls, and is made to endure weather conditions. It can often be mistaken for stucco.
Plaster Offers More Design Options
One of the biggest reasons to choose plaster is that it allows for far more aesthetic options than drywall or other finishes.
Plaster can be used to give unique depth, shape, size, and color to an area that otherwise would be limited by what you can do with paint or wallpaper.
For example, plaster allows you to create things like decorative ceiling panels, decorative vents, columns, archways, decorative fireplaces, and more.
Because plaster can be cast into any shape you want, it's ideal for adding details to any architectural feature you can name.
You can do anything from a traditional Victorian gingerbread detailing, to contemporary styles that update your home's look.
Plaster Absorbs Noise for Better Acoustics
If you have a space where you want better acoustics, such as a home studio, a home theater, a rehearsal space, or simply your home office, plaster is an excellent choice.
A properly applied plaster absorbs sound because it is a thicker, more solid material with more mass.
It creates a better sound barrier for any room that needs more sound proofing as well – so not only is the sound within the room richer, but it will also be less likely to disturb those outside the room.
Plaster Is Durable and Safer Than Drywall
Plaster is an extremely sturdy material, much harder than drywall. If you've ever accidentally put a hammer through drywall, you know how easy it can be to damage that material.
Drywall is meant to last a few decades before it needs to be repaired or replaced – plaster, on the other hand, was designed to withstand centuries.
People who own historical homes from the late 1800s often still have the original plaster, and it is often in great condition.
Additionally, plaster is far more fire resistant than drywall, which makes it a safer choice for a home. The reason for this is that the material is cured, and also because there is less space between the wall and the plaster than there is between walls and drywall – meaning less oxygen to feed fires.
Plaster Can Be Art
One reason that many homeowners love having plaster instead of drywall is that it can become a form of stylish design.
Professional installation can match the texture of the remainder of a house, so your drywall and your plaster won't look significantly different from each other.
Plaster craftsmen spend decades learning how to create truly unique design elements with this material, so it's not just a wall covering – it's a piece of art, like having a piece of hand-carved furniture.
Plaster is often used in luxury business spaces where creating impact with unique architectural elements is part of the brand image. This includes places like restaurants, places of worship, government buildings, universities, and high-end jewelry stores, for example.
Plaster Is Perfect for All Jobs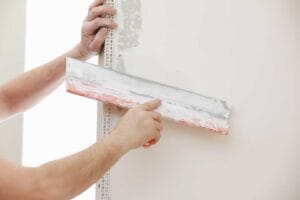 One issue that many contractors have with drywall is that it makes a big mess when you try to make it fit a smaller area.
Those oddly shaped walls around staircases or architectural details lead to a lot of drywall dust and having to carefully measure to get the right fit. Plaster is much better suited to small jobs like this.
No job is ever too small for plaster to work perfectly, and that's something that many homeowners can benefit from.
If you don't want to DIY a remodel and potentially have mistakes, we are more than happy to get your plaster application just right – no matter how small or large the job may be.
What You Need to Watch Out for with Plaster
With all these fantastic benefits for using plaster, there are very few reasons to not give this material a try.
The rising trend of using plaster in interior design shows that many property owners are loving what plaster can do for a space. But there are a few things to keep in mind when it comes to having plaster walls.
Although this product is made to withstand centuries of wear and tear, it can start to form minute cracks over time if not correctly applied. Once cracks are formed, it is hard to stop them from getting worse.
The best way to avoid this problem is to have the plaster expertly applied in the first place.
Whether you are remodeling, or building a new property, and want to use plaster for its excellent qualities, contact us at 857.251.5496 to learn how our team will ensure that your plaster walls will look great and last.